HWA Accepts:


SnapRing TireSaver Covers
BETTER PROTECTION FOR YOUR TIRES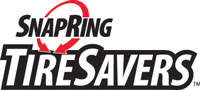 Tires take a lot of abuse and can become unsafe if exposed to the sun and other environmental hazards too long. Now you can protect your tires with ease using SnapRing TireSavers. This exclusive spring-steel ring design holds the TireSavers in place and eliminates the hassle of crawling around on the ground trying to secure staps, bungee straps and hardware.



SnapRing TireSavers are available in seven (7) sizes to accommodate almost any wheel application. Measure the diameter across the center of your tire from the edges of the tread to determine which TireSaver size you need. These wheel and tire covers are offered in two colors black and white. Tire covers come with a one (1) year warranty.


Install and remove the spring-steel ring on backside of the wheel and tire.
SnapRing TireSaver Install
SnapRing TireSavers are designed and made to make it easy for owners of RV's, campers, horse trailers etc. to cover the wheels and tires of their vehicles without crawling around on the ground trying to secure bungees or hardware.

TireSaver covers are easy to install:
1. Open TireSaver cover.
2. Slide the tire cover over the tire.
3. Let the steel ring "SNAP" into place to secure tire cover.

Now your tires are protected and the TireSaver is secure.

SnapRing TireSavers are ideal for any large vehicle such as boat trailers, horse trailers, and motorhomes. Any large vehicle and trailer with tires that is stored outdoors will benefit from the protection provided by SnapRing TireSavers.