HWA Accepts:

HWA Ships With:

Auto Emergency Kits

Our AAA auto emergency kits are the utmost in road survival. We put together a collection of quality products that will get you out of being stranded. We keep in mind when building automobile emergency kits, the quality, affordability, and best use. No fancy tools or gimmicks, just practical components like the Life hammer, will aid you to reach for the nearest help, or sustain you until help arrives.

You can drive with confidence with our automobile emergency kits. It contains an assortment of tools and equipment to handle nearly any road emergency you might come across. Our life hammer selection is a great rescue tool to have and use in all kinds of vehicle accidents. Every vehicle on the road must have an automobile emergency kit because a break down is considered to be one of the worst time wasting experiences. Order one of our Auto Emergency Kits today.


Click on any one of the products below to see which emergency products you need to have in your vehicle near you when an emergency situation occurs.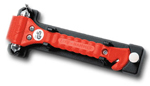 OUT OF STOCK

OUT OF STOCK
ResQMe Escape Tool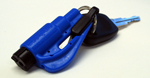 Tire Repair Kit